Today we wrote Maria:
Good morning. My name is Mary. My father has begun at the university hospital of Móstoles (Madrid), the treatment with carboplatin and etoposido for a tumor small cell lung cancer non-metastatic (apparently after TAC).
Follow with sputum or bloody, has a low-grade fever, edema pleural to the lung of the affected bronchi (left, at the entrance to the lung has a tumor of 7 cm in diameter).
I would like to know what can be done during treatment with chemotherapy to increase the chances of a cure and no recurrence.
Response of dr. Paula J. Fonseca:
Dear Mary: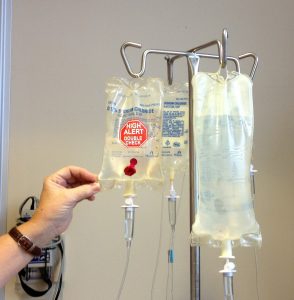 First of all, wish you a lot of strength in some difficult times with the cancer you have his father. The cancers of small cell or microcíticos of the lung without metastases are usually treated with chemotherapy and depending on the answer to this is valued the convenience of radiation therapy in lung and brain.
Although it is key to the control of this cancer is the chemotherapy, to take care of the power supply may help keep you with energy and boost your immune system. The change in the flavors and the metallic taste is often caused by chemotherapy, usually platinum, in the case of his father probably the carboplatin. To reduce it you can replace the covered metal covered in plastic, and season the food with spices that are pleasant as the bay leaf, parsley, mint …
In terms of the diet you are following, everything he says is right and should be exercised with do not give concentrates of antioxidant agents to not interfere with the chemotherapy. Review:
Breakfast: water with lemon, green tea with oatmeal, nuts and one or 2 almonds.
If possible, you should add yogurt and if you have an appetite at that hour, add a banana and strawberry shakes with the yogurt.
Food: blue fish, salmon, liver, broth of bones and cartilages, I told q reduce your intake of red meat of muscle.
The food is good to ensure the protein intake to base of blue fish as indicated, and, if your appetite allows it, accompany it with a side of vegetables. 2-3 days a week may replace fish for legumes, lentils, which you can combine with rice, chickpea that can be combined with spinach or beans that you can add a few clams.
Dinner: we suggest you take a broth or mashed vegetables (pumpkin, zucchini, carrot), an omelette or chicken and a yogurt.
At mid-morning and mid-afternoon can take fruit topping or cheese and ham.
Supplements: spirulina, pills of omega fatty acids 3, 6 and 9, and a bit of vitamin C.
As soon as they can bring these supplements is still unknown. It is known that the turmeric could have an antitumor effect, and also infusions of rooibos, green tea/black that will help you ensure the intake of 1.5 liter of water per day.
If you could walk 15-25 minutes each day or walking around the house would also help.
For patients it is a luxury to have your family support, struggling to his side, but it is important not to agobiarles or force them. Many times do not do things, eat, walk … because the disease prevents them from doing so not because they don't want. In these cases, force it can increase your suffering.