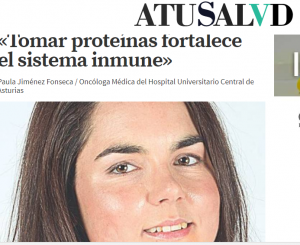 The EFE news agency has conducted an interview-interview to dr. Paula Jiménez Fonseca in which he once again warn against the messages of "magic" that ensures that good food can cure a cancer by itself.
"The aggressiveness of the cancer is such that only with the power it is not possible to win the battle", says the oncology of the University Hospital of Asturias.
Those who read it in this link you can find the food groups on antitumor of 1 to 10, and the habits that we should avoid, such as diets rich in fats and fried foods, salt or smoked, among others.
Some media already are echoing of this report released by the EFE news agency for publication among its partners, such as the Q magazine of Mexico. See link.
We leave the article's original EFE which you can access by clicking on this link.